Many aspects of life that were once handled in person have now moved online and, somewhat surprisingly, that move has yielded some positive results.
The increase in the number of people taking advantage of teletherapy is a good example. Many therapists have noted that their patients have been more forthcoming during remote video sessions from their home than they once were during office visits. They believe that as more people become comfortable in using technology and being in their own environment that they're more at ease in sharing their thoughts and feelings.
The implications of this for qualitative research are interesting, to say the least. Generic conference room interviews may soon be a thing of the past. Platforms like Discuss.io enable organizations to collect consumer insights and online qualitative research via video interviews. This approach offers a greater level of intimacy not previously expected and builds new connections companies have never before had.
Breaking Traditional Boundaries with Video Interviews
In the past, consumer research has been known as a time-consuming process, both for the research team and for the participants.
Researchers would call candidates to participate, bring them into the office, and pay them at the end of the program. Candidates would enter a conference room with a mirror on the wall and be grouped with other participants they didn't know. It's time out of their day, including the time it takes to travel to the office, find parking, go through a screening process, and wait for the activities to begin.
Video interviews turn this traditional process on its head. It's a completely different experience for participants and a much more streamlined approach for researchers. It eliminates any person-to-person issues participants may have, and candidates often feel more comfortable in their own space.
Because the location isn't a factor, researchers can expand their pool of participants beyond geographical limits. This was the case for Lycored, a natural food coloring company with researchers in the US, Switzerland, and Israel. Instead of bringing consumers and researchers into a central location, the company chose to connect via Discuss.io so that participants could engage from the comfort of their own homes. In this way, the researchers were able to get insights from a vast cross-section of people, with both participants and researchers working from home. The result? Researchers were able to get the insights they needed, and consumers were comfortable with the entire process from start to finish.
A video conferencing platform that is purpose-built for qualitative research like Discuss.io enables researchers to move people through the research process smoothly and quickly, all while enjoying greater scheduling flexibility.
Why Videos Offer a Greater Level of Intimacy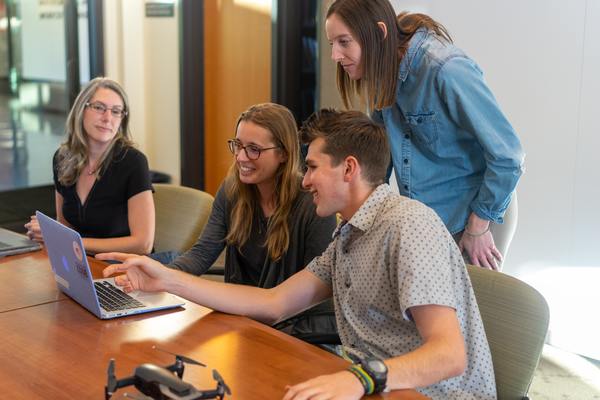 Those engaged in qualitative research are tasked with uncovering genuine consumer insights, no easy feat to accomplish. But having the ability to literally see into each participant's world can be a game-changer for a researcher. Because participants are in their own environment and not surrounded by strangers, in their comfy clothes, many may feel more inclined to open up and share their honest thoughts.
Researchers aren't just gaining access to their customers. They're also seeing inside other people's homes and developing insights into how they live, a missed opportunity with a traditional in-office interview. They're putting a face and expressions with a voice, something that isn't possible with a phone call. Visual cues like this help with developing empathy and understanding the emotional aspect/response to a topic.
For many, video interviews offer a far superior experience, and it's likely that video will be a mainstay of qualitative research for years to come.
Build Better Connections with Discuss.io
As the need for in-depth consumer research continues to grow, the methods of qualitative research will continue to evolve. Today, that evolution is apparent in the form of video tools that enable honest face-to-face conversations, the collection and archiving of consumer insights, and the analysis of those insights through searchable cataloguing and collaborative tools.
Discuss.io is designed specifically for online qualitative research. It captures, collects, archives, catalogs, and makes available consumer insights to help build empathy and intimacy with consumers at every level of your organization.  Get a demo to see the platform in action.
Sign Up for our Newsletter